強奸不犯法 喪盡天良的摩洛哥法律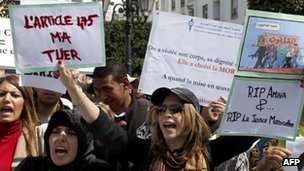 摩洛哥刑法规定强奸犯与受害者结婚可免除刑责,16岁少女自杀一石激起千层浪. Morocco protest against rape-marriage law
听写于:2016-12-15 12:8 用时:22:26 正确率:92% 错词:20个
提示:红色:错误单词,绿色:补上正确单词,黄色:纠正大小写与标点
Women's right campaign is rights campaigners in Morocco , it have been demonstrated demonstrating in the capital Rabat against the country's rape law laws which allows allow the rapist to marry his victim in order to avoid prosecution. The protesters have been outraged by the suicide of 16-year-old Amina Filali last week after she was severely beaten when she was forced to marry her rapist. Her mother described what happened.
" He raped my daughter, . He mistreated my daughter. She complained to me that she was mistreated . that she didn't get fed, that he threaten threatened to kill her if she stayed there. I told her to not to be afraid, to be patient, to be very patient. "
The protesters have asked the government to remove a specific article in the penal code , which forces rape victims to marry their rapists , has as a way of defending the families' honorfamily's honour. I called My colleague Julian Marshall and got more details . And my from our correspondent in Rabat , Nora Fakim.
" But the Moroccan's Moroccans women's association are protesting today , to ask the government to remove the penal code 475 . and to help change mentalities , because for them, it's a waste of life and there could be future Amina Filalis if the government doesn't do anything. "
" And how much supporters support is there for this pressure to remove this article from the penal code.
? "
" Well, the women's activists are getting a lot of pressure from Moroccans in general. But, but I spoke to them in this morning , and they have been disappointed by the government's reactions reaction so far. , because only 2 two ministers responded . and they are particularly upset at the minister of justice who is defending the judge who forces forced the 15-year-old girl to get married to her rapist. "
Words worth to be remembered:

campainger: n. 竞选者,活动家;从军者,出征者;老兵
penal code: 刑法典
譯文
摩洛哥的女权运动者在首都拉巴特示威,抗议该国强奸法案。该法律规定,强奸犯可与被害者结婚,以免受刑责。16岁少女阿米娜•费拉利被迫嫁给强奸犯后,于上周遭毒打后自杀身亡,此事件也点燃了抗议者的怒火。阿米娜的妈妈讲述了事情的经过。
"他强奸我女儿,还虐待她。我女儿向我诉苦说他虐待她,不给她东西吃,还威胁说如果她留在家里就杀了她。我告诉她不要害怕,要忍耐,一定要忍下去。"
摩洛哥刑法强迫受害者与强奸犯结婚,以保护家族名誉,抗议者则要求政府废除这项条例。我的同事朱利安•马歇尔与拉巴特记者诺拉•法基姆连线,获知了更多细节。
"摩洛哥妇女联盟今天抗议,要求政府废除刑法475条,并帮助受害者恢复心理状态,因为如果政府不改变现状,对受害者来说就是浪费生命,今后也可能会发生更多类似阿米娜•费拉利的事件。"
"那么这次要求废除刑法相关条例的抗议得到了多少支持?"
"一般来说,妇女运动会受到很多来自摩洛哥人的压力,但我今早与他们交谈,发现他们对政府目前的反应感到失望,因为仅有两名大臣做出回应。而之前法官曾强迫15岁少女嫁给强奸犯,司法部长对此做出的支持也令他们尤为愤慨。"