異口同聲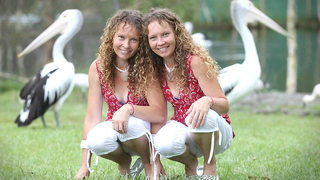 听写于:2016-11-23 11:53 用时:18:50 正确率:89% 错词:27个
提示:红色:错误单词,绿色:补上正确单词,黄色:纠正大小写与标点
Paula and Bridgette Powers are identical twins from eastern Australia who do the most extraordinary thing. They choose to speak at the same time. The pair has have spent almost every day of their lives together. They are in their 40s now . and they share a passion for seabirds. They set up the Twinnies Pelican and Seabird Rescue refuge off the Sunshine Coast . and they went into a studio in Perth to tell me about themselves. Here they both are.
Well, I'm sad. mum said it was very easy for us to look be looked after . and she said that we are easy lived to amuse one another. , and she said that we had our own twin language . so no one else could understand what we are were talking about.
I mean, you talked talk about having a twin language when you were little, but the way you speak now is amazing. , in unison like that.
YesYeah, it does happen just happens naturally . and people think that we put it on but we don't. Not rightNo way. Actually , we both got this the flu at the moment . and we are on the same antibioticsanabolics.
What? Do you always get the same illness illnesses at the same time?
Yes, unfortunately.
What? Right back to when you were little?
Yes, that's right. I had had my appendix out, and then Bridgette had her appendix out two weeks later.
Wow, . So it that was, so that's Paula to have who had the appendix out first.
Yes, . That's right. And then I I'll have to suffer for two weeks.
Words worth to be remembered:

unison: adj. 同音的 n. 调和,和谐,一致,齐唱,齐奏; in unison 齐声;一齐;一致地,和谐地。 例句: Michael and the landlady nodded in unison. 迈克尔和房东太太一起点头。
put it on: 装腔作势;夸大;夸张。 例句: It wasn't as hard as you claimed;you were putting it on. 这并不象你说的那么难,你在夸大其词。
anabiolic: adj. 合成代谢的; Anabolic steroids are a synthetic version of the hormone testosterone, and promote the storage of protein and tissue growth. 合成代谢类固醇相当于人造的睾丸激素,它能促进蛋白质的积累和组织的生长。
譯文
葆拉和布丽奇特·鲍尔斯是澳大利亚东部的同卵双胞胎,她们会做一件非常不寻常的事——能同时说话。这对双胞胎几乎天天生活在一起。目前她们40多岁,并且非常喜欢海鸟。她们在阳光海岸建立了推尼斯鹈鹕和海鸟救助站。她们来到了我们位于佩斯的演播室讲述她们的故事。接下来有请这对双胞胎。
妈妈说照管我俩非常轻松,我们总能相互逗趣,她说我们有自己的双胞胎语言,其他人都无法听懂我们在说什么。
你们小时候有自己双胞胎语言,但是你们现在的说话方式很不可思议,完全一致。
是的,这是自然而然的,大家以为我们是装的,但其实不是,根本不可能。事实上我们同时得了感冒,而且代谢相同。
真的假的?你们一直都是同时生病、生同样的病吗?
是的,很不幸。
真的么?你们从小就这样吗?
是啊,没错。我做了阑尾切除手术,然后布丽奇特几周后也摘了她的。
哇,那也就是说是葆拉先摘的阑尾。
是这样。然后两周后我也不得不经历同样的遭遇。